Would you like to know an easy way to update your Twitter Bio and stand out from competitors? We are all busy bees at the moment work wise, juggling lots of tasks including social media. So when someone arrives on your Twitter account you want it to look it's very best. You have your Twitter Bio figured out and it reads really well, highlights whom you help, what you do, with a call to action and you've been even able to jazz it up a few emojis to give people an idea of your personality! All good, good, good, but would you like it to stand out a little more on the desktop?
If the answer is yes… then I have a little tip to help you look even better in just a few steps. So instead of a couple of lines of text in your Twitter Bio, you will have four "nicely set out" lines of text and your Bio will be far easier to read on desktop too.
(Here's my "before" Bio)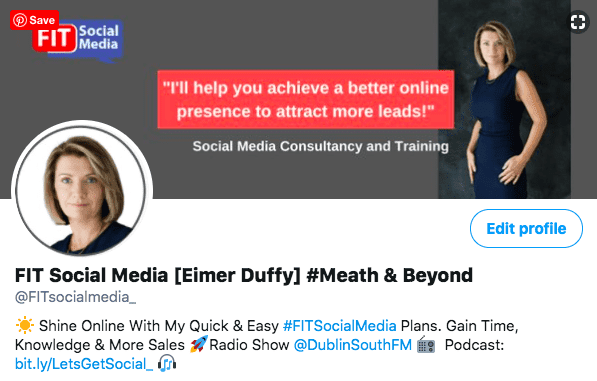 Here are the steps:
Go to your Twitter account on a desktop and click on "Edit profile".
Cut and paste your current Twitter Bio into a Word document or I use Evernote as it is very handy: It's a free app and can be accessed on desktop, great for saving things you want to use later. So now you've saved your current Twitter Bio then follow the next steps:
Go back to your Twitter account and in your Bio on the desktop and type:
1.
2.
3.
4.
and to do this you need to click on the following keys: Hold down "Shift" and click "Return" one at a time.
Once you have the numbers in place, go back to your where you had saved your original Twitter Bio text and copy the first line.
Go back to your Twitter Bio on the desktop and delete the number 1, and paste in your first text line of your Twitter Bio.
Then go back to where you save your original Twitter Bio and do the same again for the second line of the new Twitter Bio, and delete the number 2.
Do this for line 3 and line 4 in the new Twitter Bio.
Think of putting emojis at the start of each new line and save.
You may have to tweak your new bio layout, but now you have four lines in your Twitter Bio.
(Here's my "after" Bio)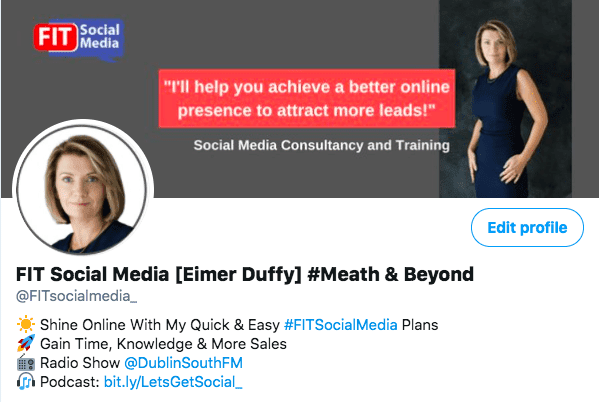 To Conclude…
So why not give this a go and your Twitter Bio will look even better on a desktop! On mobile, it looks like it would normally look as it has a different layout and it's not possible to have the four lines laid out like on desktop. Maybe that will change one day. If you liked this blog, why not check out a few more here.
For more tips why not follow me on Facebook, Instagram, LinkedIn and Twitter!
If you would like the idea of listening to a show where they talk about social media for business simply then why not tune into the radio show called "Let's Get Social" on Dublin South FM every Friday 2pm (GMT time), which I host with the amazing social media strategist Phillip Twyford (aka "The Curly Marketer"), who even throws in the odd social media joke (and yes he does keep trying!).
And if you can't catch the radio show why not subscribe to the podcast on:

– Spotify
– iTunes
– Podbean
– Dublin South FM
If you would like some help with your social media presence through consultancy or training as a business or entrepreneur, do let me know. I also work with students to help them with their online presence to help leverage their career path. I would be so happy to see how I can help you in a short space of time. And you can get in touch with me here.
Take care and stay safe everyone.
Thanks for reading! 😀